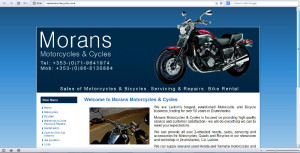 A starter website is perfect for the small business looking to save costs, ideal for plumbers, electricians, painters, glaziers,  mechanics, bakers, make-up artists, cafe's, take-aways, musicians, car valeters, home delivery businesses, window cleaners, B&B's, babysitters, dog walkers, caterers, gardeners, handyman services, cleaners, photographers, cake decorators, DJ's, etc.
No Deposits,
No Monthly Fees,
No Hidden Costs…
€99.00 is all you pay for the website, 1 years web hosting and 1 years .com domain name.
Look at what you get for your €99.00,
* 1 years web hosting
* 1 years .com/.net or .org domain name registration .IE is an extra cost option. (example: www.yourbusinessname.com)
* e-mail accounts (yourname "at" yourbusiness.com)
* cPanel with web stats + more
* Adding text / photos (supplied by yourself by e-mail) to create up to 10 pages!
* Listing on Google
The starter website is ideal to test the market for your latest idea without having to spend thousands of euros on the most advanced website.